StrangeLoop and the Secret Netflix Party
A Tech Conference Odyssey
This week's 4 day trip to the StrangeLoop 2019 tech conference was an Odyssey.
I usually try to keep my blog posts short because I <3 brevity. In consolation for the length, I'll chunk my stories into mornings, afternoons, events, whatever fits. The stories end with this group of friends.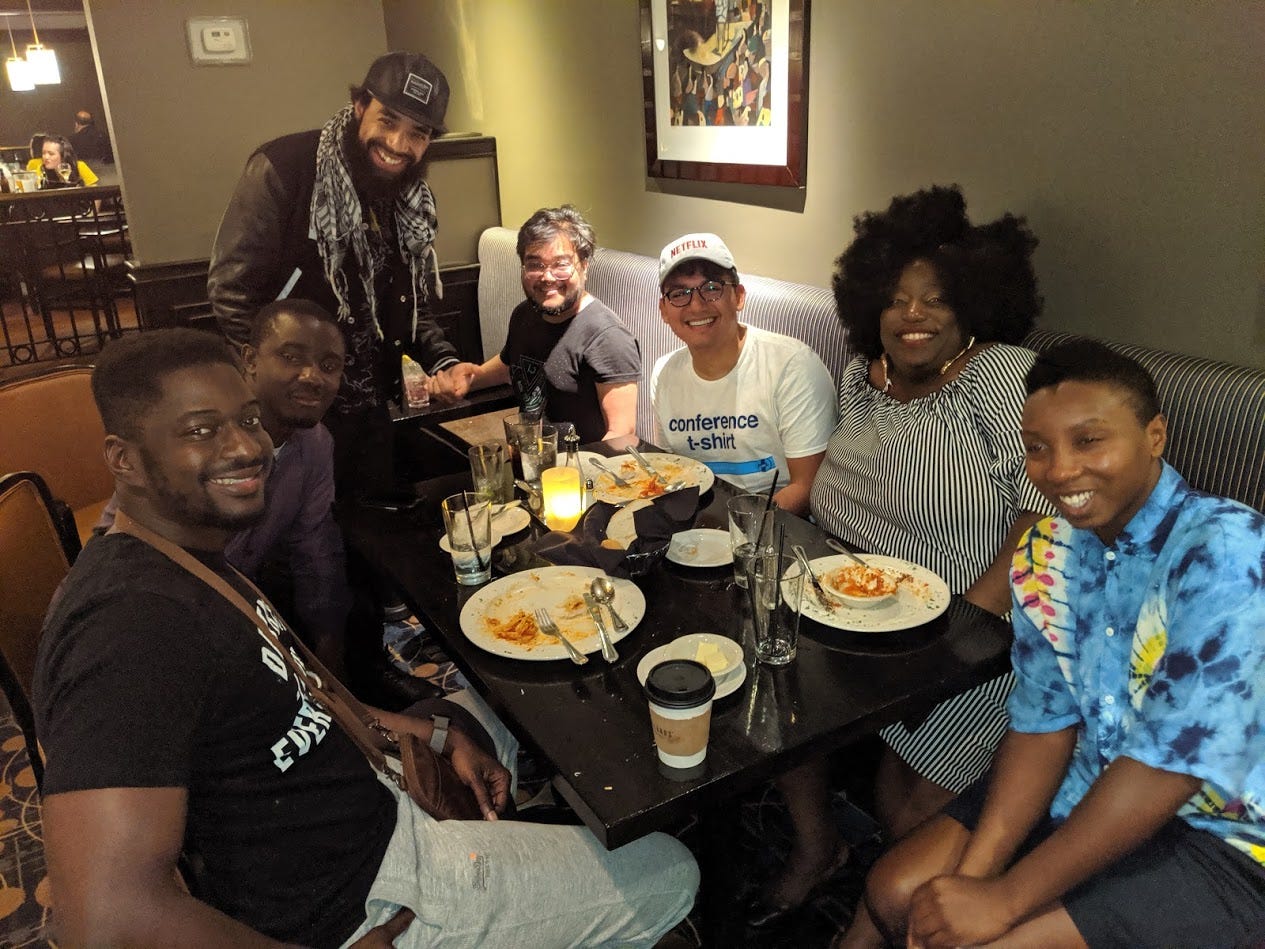 The only logical place to start, is the beginning.
---
Meeting my Roommate
Wednesday 6 pm - 9 pm
I arrived at St. Louis in the early afternoon.
I met my roomate, Ptah (Pirate) Dunbar. He is a super rad guy. He started a non-profit called Pirate School. Pirate School introduces software skills and careers to underprivileged teenagers. One of the first things I asked him was,
Hey, you going to that Netflix thing?

Uhhh…. Sure? I'd love to talk to them.
This was when I realized not everyone might know about this "Netflix thing". How did I know about it? I still haven't found the original invitation. My best guess is that I talked to some Netflix people last year and that put my email in some St. Louis tech talent spreadsheet.
Not much happens the first day for me, except that I try making friends on a Slack group chat channel for people who are attending alone. It doesn't work out so well. I ended up leaving early and ordered food to the hotel, kind of bummed out that I might have trouble belonging there.
---
Pre-Conference Confusion
Thursday 9 am - 5 pm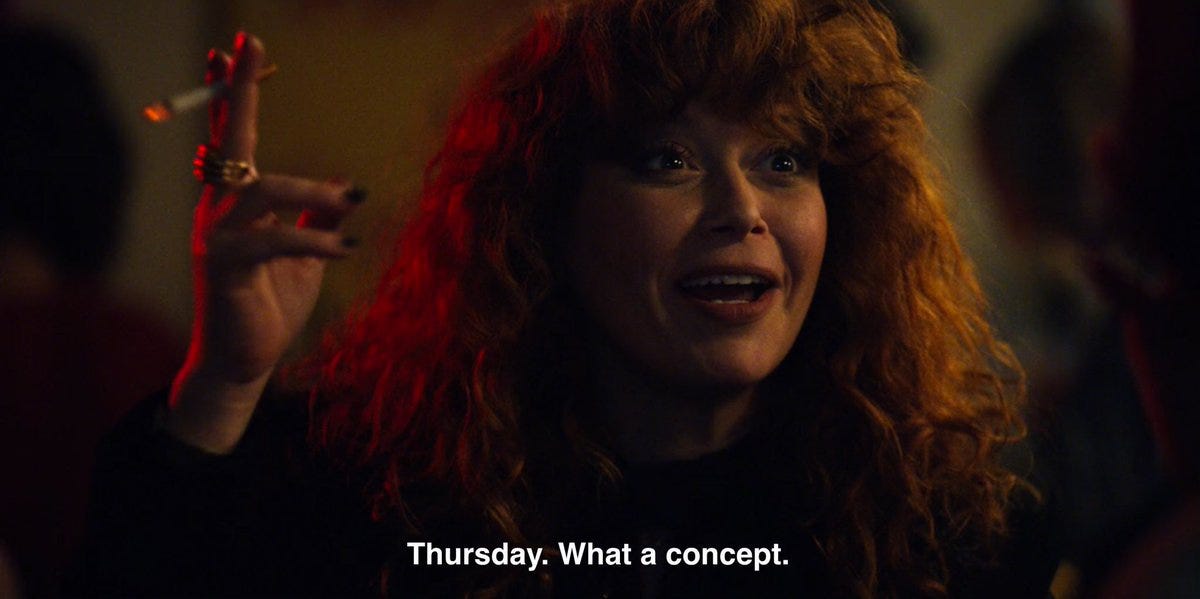 The first half of Thursday was pretty uneventful for me. It was the Papers We Love (pre) Conference for me.
Multiple project alloy grantees, junior Under-Represented Minorities in tech, confided in me that their pre-conferences were overwhelming. Anji later explained to me that getting exposed to new things isn't bad. That is for sure. But getting exposed to something new, while people in the room treat it as something old, in a big new-(ish) conference experience is scary.
---
Anji and #diversityintech
Thursday 5 pm - 9 pm
Thursday is when I found the Slack channel, #diversityintech. It was put together and kept active by Angela (Anji) Raymond. Little did I know that Anji would have a huge impact on this Odyssey.
With #diversityintech, I found it much easier to get together with new friends, go to dinner, and generally hangout with people. The City Museum Party, open to all Strangeloop attendees, was a great opportunity to meet people from #diversityintech. This party was not a secret. It was hard to connect with anybody outside of our channel. Since most connections are approached from a low-leverage situation, most people don't actually put in too much effort into meeting. I can't blame them. Strangeloop is chaotic and they have their own priorities.
Anji saved my Strangeloop experience. She was active in the channel, leveraging her engaging personality to create meaningful relationships not only for her, but for people around her. It worked.
---
Distributed Databases and War Trauma
Friday
I watched a couple of distributed database talks, which was really enlightening. Git conflicts used to scare me. Now I have nightmares about read and write conflicts.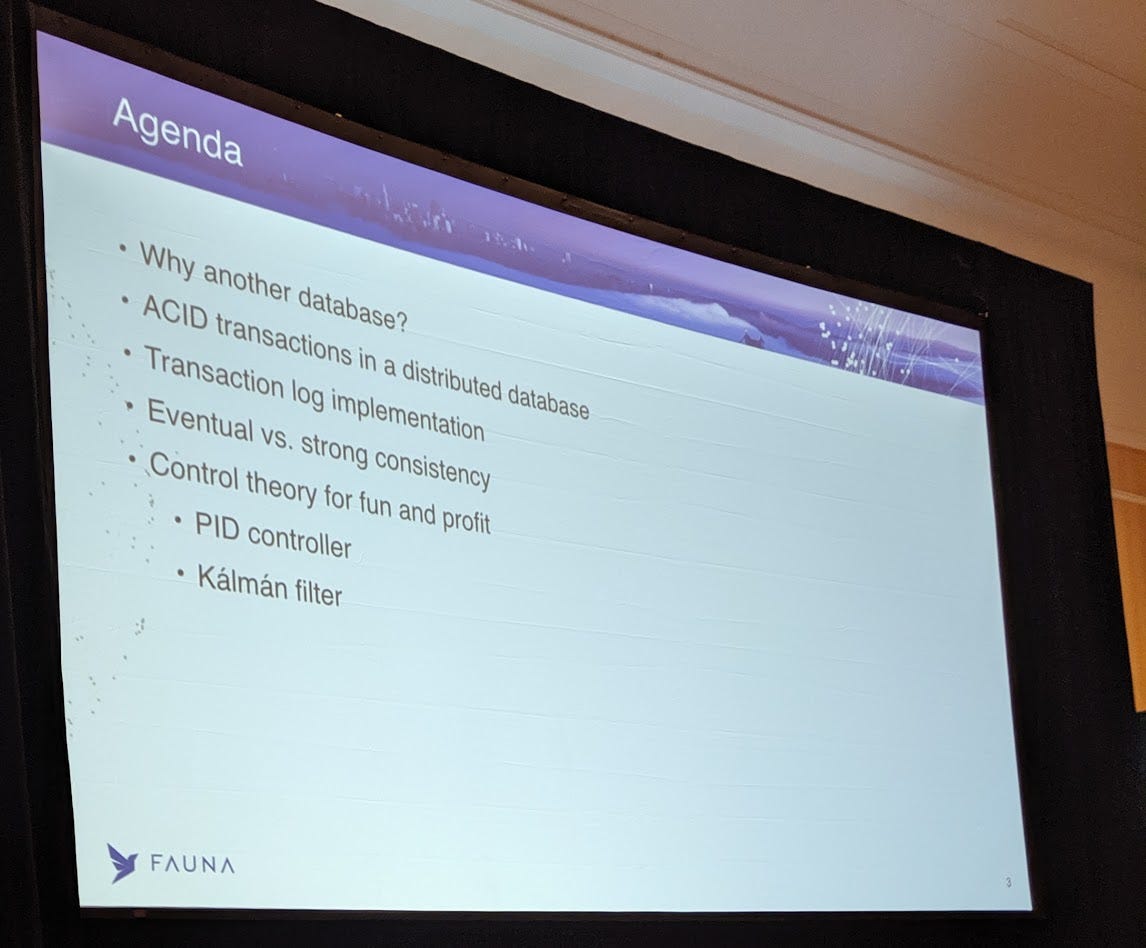 More importantly, I avoided all keynote speeches. I had nothing against the content. I actually admire all of them.
Why didn't you go to the keynote??? It was so good!!!

*awkward mumbling making excuses*
That many (~1500?) people in one room sets off way too many alarms in my head. My parents grew up in a civil war, instigated by the USSR and US in the 80s. Generational war trauma brought me up with hyper-vigilance. Packed rooms like that are best avoided for my mental well-being. I don't do trauma porn in this post, so I won't go into too much detail.
If you would like to check out the hashtag #salviwartrauma, you can see how we process this violence.
---
Bending Rules
Friday 5 p.m.
The last keynote ended around 5:30 pm and Project Alloy grantees to get together with each other and Project Alloy board members. It is an amazing event in which all of us grantees get together and talk about our struggles and wonders so far.
Before leaving for the party, Ptah, my roommate and I agree to stay for about an hour and head over to the SECRET NETFLIX PARTY. I had told him that I wasn't technically allowed to invite him, but if he was OK with crashing the SECRET NETFLIX PARTY, I would send him the RSVP link. He was down to crash it. I was down to bend the rules.
This is one of those instances where I will gladly call myself an accomplice. My Black Caribbean friend does work that matters for children learning tech. Of course I would bend the rules to get him a seat at the table with me.
We have to lift each other up. We have to.
---
The Project Alloy Party
Friday 5:30 pm - 6:30 pm
Ptah, my roommate, and I got to the Project Alloy party on time so that we can leave in about 60-90 minutes to the SECRET NETFLIX PARTY. We ended up staying a bit longer than expected, but there were good reasons.
Ptah and I sat down at a table and Anji soon joined us. I had hung out with her for about an hour the previous night and we were vibing. We had complementary personalities. I am shy. She is personable. She is a saleswoman (and a kick-ass engineer) and I am more of the quiet engineer. She is Panamanian. I am Salvadoran. That meant we were both Central American family.
As soon as I saw her, my gut screamed at me
TELL HER ABOUT THE SECRET NETFLIX PARTY! SHE WOULD BE AWESOME TO TAKE!
In the moment, it wasn't a calculated move with all this reasoning I'll explain later. It was just good vibes.
The second she sat down, I asked her
Hey you wanna go to this SECRET NETFLIX PARTY with us? I can send you the secret invite link?
She immediately said yes and responded to my Slack message:

:)
I also told her
Keep it on the down-low. It's a secret.
I didn't feel like bending the rules for anybody else but I thought it was the right thing to do, to bend the rules for these peer leaders; Anji and Ptah.
We have to lift ourselves up. We have to.
Tangent on Power Dynamics

After Anji said yes, I re-realized that any creep could make up a story about a high profile party and take advantage of black and brown ambition! How disgusting is that?! Sorry. I had to get that out.
Soon after sending the link, Anji went back to our hotel and got ready for the SECRET NETFLIX PARTY.
Friday 6:30 pm - 7:40 pm
I told Anji to take her time because I figured she needed to be on top of her game. I would want that grace. She texted us around 7:30 pm and we started to head out to meet her. She had put on her outfit. At this point, I was bad at hiding my excitement, but I tried anyway. I told them,
y'know, NETFLIX gave me a coupon for the Lyft?
At which point, they gassed me up.
Part of me wants to be Jay Z and always play it cool. Like I'm used to secret parties in which transportation is paid for. The fact is that I'm not.
On our way over to the party location, we are wondering out loud together, how I could have gotten this invitation. Looking at the emails, it said it was for St. Louis tech professionals to have dinner with NETFLIX. I didn't know where the email came from, we just thanked whoever made it happen.
The driver stopped in front of what looked like, an abandoned warehouse. They tried dropping us off but Anji insisted,
Take us to the real entrance of this building
He had to go around an alley and across a security (?!) checkpoint of sorts????
Up until this point, I wasn't completely convinced that this party would work out. I still had a few doubts. The security guard at the abandoned looking warehouse asked us
guard: You here for the event for uhhh….

us: NETFLIX???

guard: yeah! go upstairs to the top floor
We pressed the button and Anji checked in with Ptah and me:
Y'all good? Do we need to have a pep talk?
We were good. We were ready. And nervous. We stepped into that nicely lit elevator and ascended. For each beep of the floors, the party got realer, and realer…
---
Belonging
Friday 7:40 - 7:45 pm
I was thinking,
I am crashing two black friend in when they said to not invite people last minute. But this is the right thing to do. If they don't let them in? What do I do? Refuse to go to the party, of course. We can go get burgers.
My badge was right there on the table with a dozen others. Ptah's and Anji's badges were nowhere to be found. The dinner organizer, let's call them Steve, had some choice questions for Anji because she was next.
So when did you register?

I just registered. I got the invite.

Ok. Did you get the invite last minute? The badges got made 3 days ago.

*some more confusion and they check a spreadsheet*

Ok, so you are on here. What is your information?
Steve 100% knew that I had invited them last minute. Steve took Anji and Ptah's information and put it down on blank badges with a marker. By the end of this little episode, Anji, emotionally aware, asks Steve if it's been a long day? Steve makes a joke about free drinks at the event and the tension is immediately dissolved.
Anji is a genius.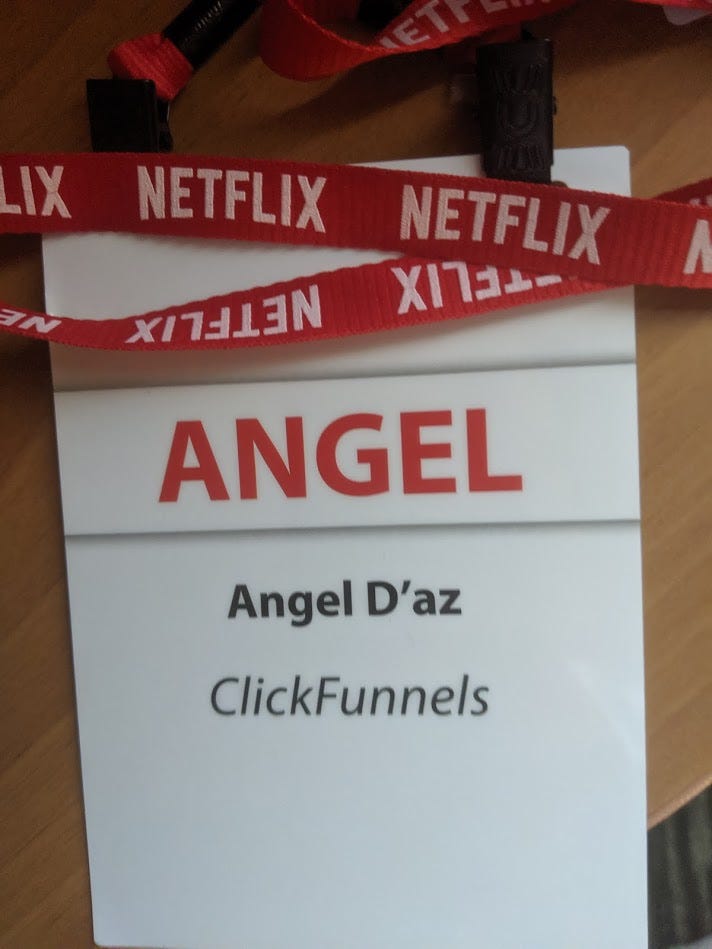 Friday 7:45 - 8:00 pm
There were about 40 people at the party already. I noticed some of the professionals with nice clothes also had blank sharpie marked badges? That was funny to me. I'm not the only person crashing people in here.
In these first fifteen minutes of mingling, I became even more convinced that Ptah and Anji were amazing accomplices. I am a normally shy person. I made the right choice to bring complementary personalities with me. Therein lies the heartless utilitarian argument for diversity. Diversity brings complementary perspectives, which provides more success. It's also the right thing to do, but that's besides the point, I guess.
In those first minutes that we didn't belong, I quickly realized, we belonged.
Friday 8:00 - 9:45 pm
The rest of the night was more of the same. Fancy section after fancy section. First there were fancy hors d'oeuvres, then there was a fancy outside rooftop view.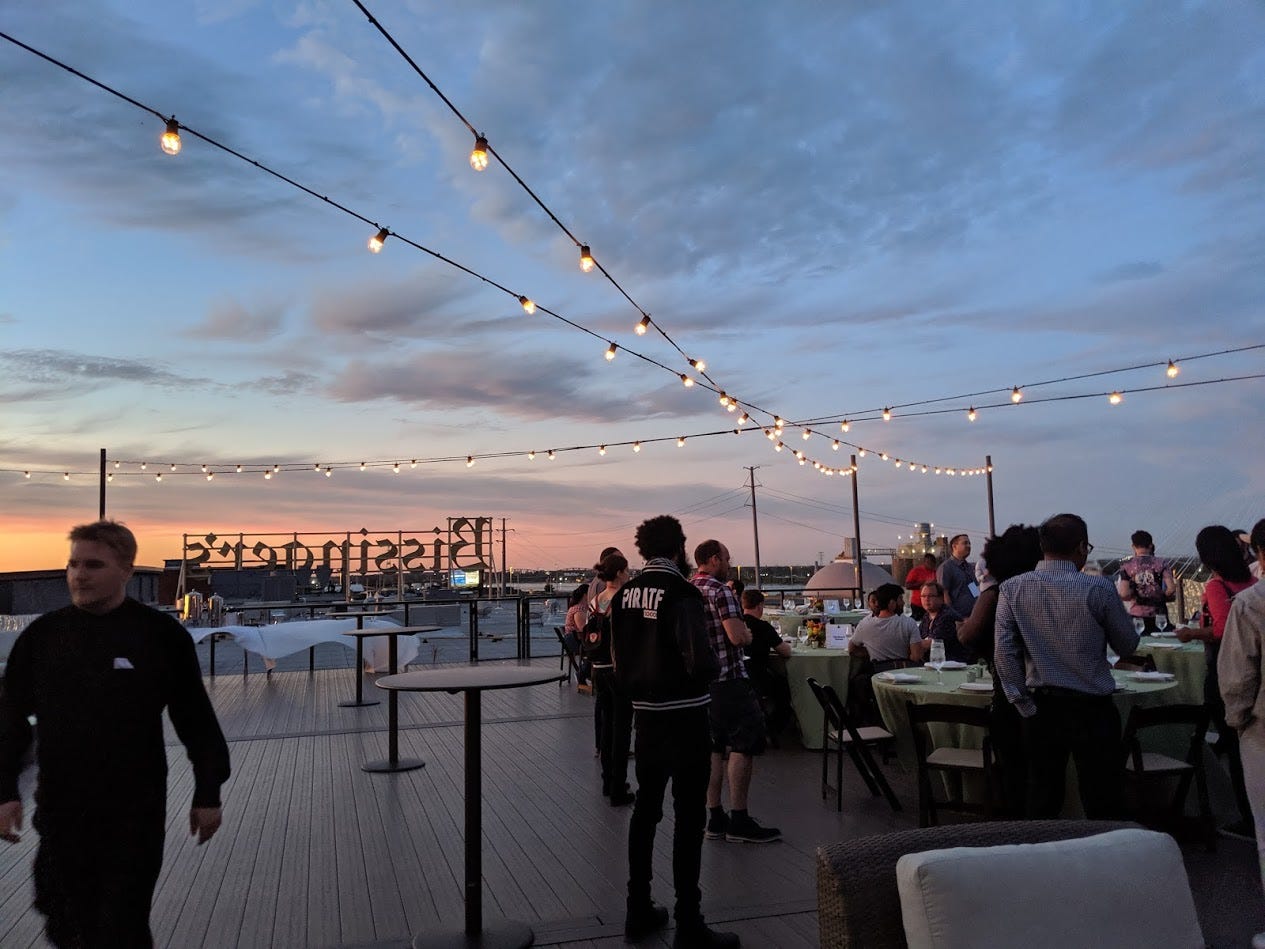 With the view, we ate a fancy dinner, family style. Each table had a technical topic. Ours was database persistence. But it just said: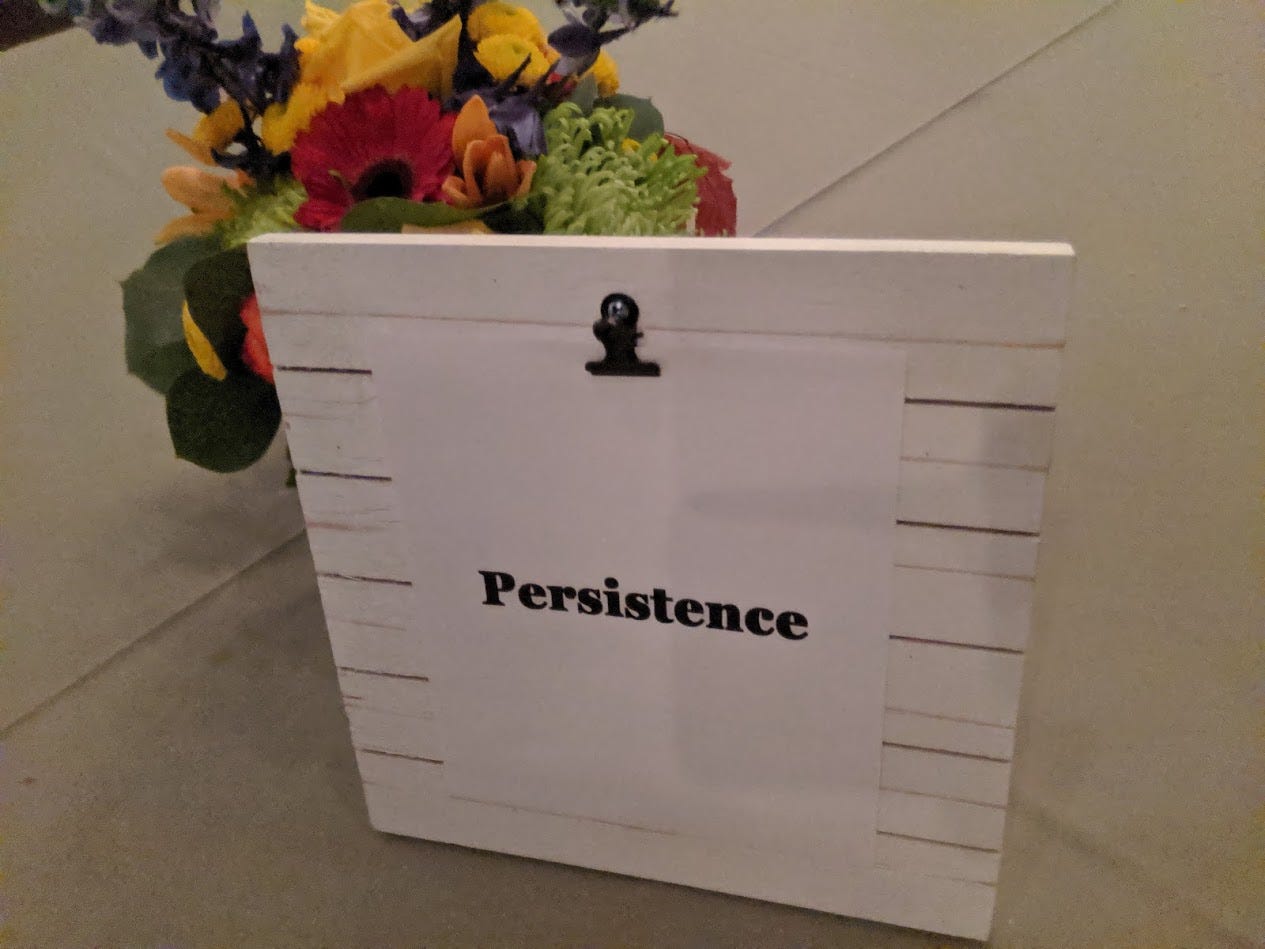 If there was one word to sum up that our lives.
Persistence
The three of us tried to perform at peak emotional awareness. Knowing how to
Create cold introductions

Ask for 3rd party introductions

end a conversation gracefully

and so on
Anji, being a quick study of humans, knew who to make friends with. Steve, the organizer, realized that Anji now had the seat of power's attention and approval. Steve made sure to check up on Anji and ask if she was happy. Steve did not do this with Ptah, or me. Interesting how power dynamics shifted.
Good vibes really do have the ability to shift power.
Our Own Little After-Party
Friday 10:00ish - 11:00 pm
The three of us got back to our hotel, close to 10 after the dinner party. We were tired but we weren't exactly itching to go to bed. We decided to share sodas at the hotel bar until they closed. 11 pm.
We talked about all the connections we made. We talked about Steve. We talked about the fancy setting. We talked about how everything was branded NETFLIX like they owned the place! We talked about everything we could remember to spill.
I was so happy that I could look out for people like me. People that maybe started a bit lower than most people in this industry.
Then we went to bed.
---
Networking Lunch and Exclusivity
Saturday 9:00 am - 1:30 pm
I thought Saturday, the second day of the conference, was going to be underwhelming compared to Friday night. I was half-right. This section is kind of boring. I'll be quick. But there was one important insight into the dynamics of this conference.
Exclusivity.
The project alloy grantees had a networking lunch with sponsors on Saturday. It was exclusive to us and a minute Project Alloy board member had to play bouncer! It got us some great conversations with industry professionals and I had numerous grantees confide good feelings about the lunch. But it wasn't the SECRET NETFLIX PARTY. The one where they spent $100+ per head. So Anji got to thinking, what's the difference here?
She made the point
NETFLIX is very intentional with their brand. Their booth is tucked away on the end. Their booth table sheets are black. Their uniform is solid colors; black or gray. Their dinner party is secret and tucked away in a seemingly abandoned warehouse.
NETFLIX is exclusive at this conference and they want you to know it. We knew it.
Dinner With Friends
Saturday 6:00 pm - 9:30 pm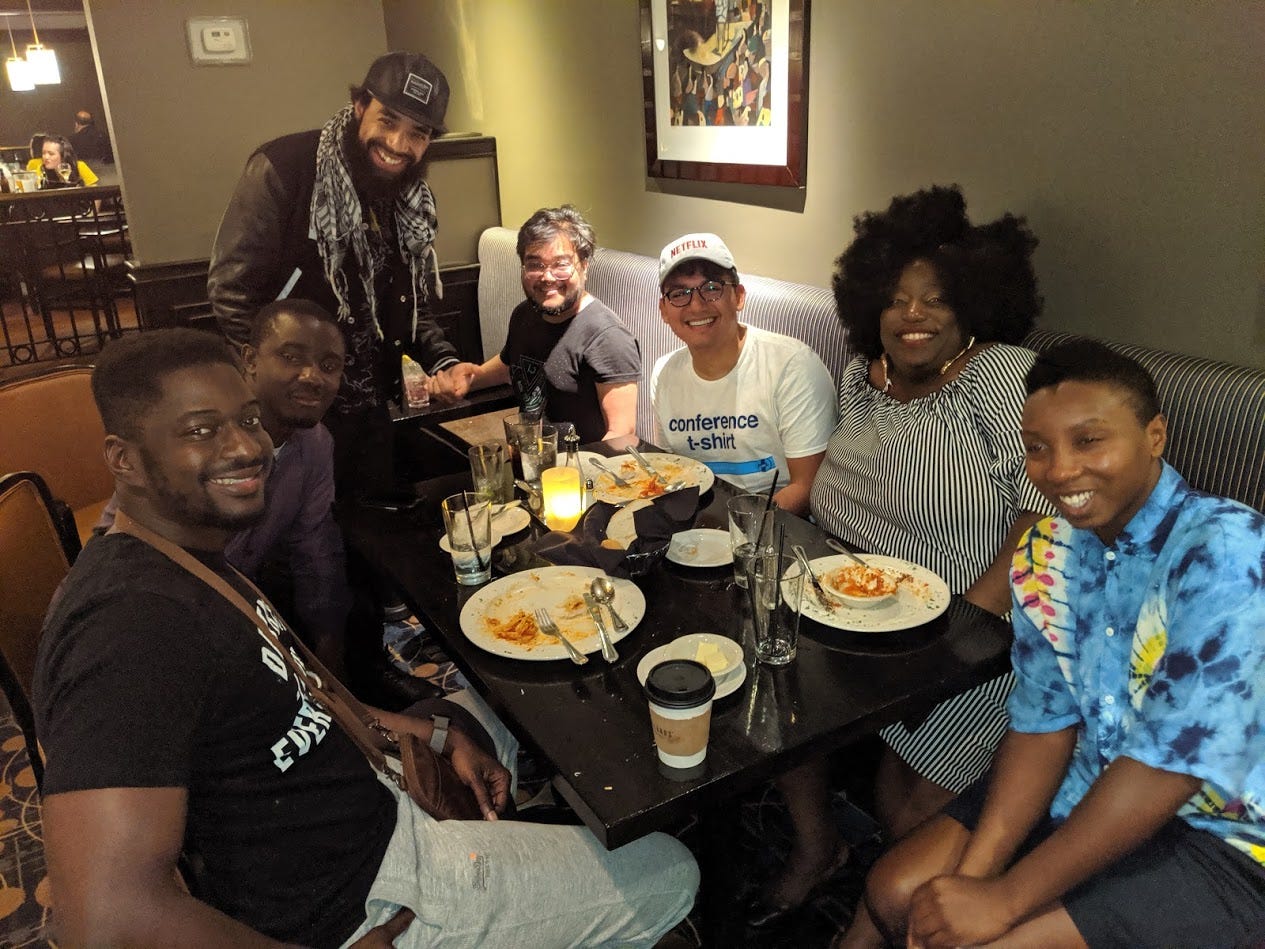 We talked for 3 hours and 30 minutes. It started off with a few of us, and more people joined as the night went on. Some of us ate. Some of us didn't. We didn't ask questions, we just passed the bread and asked for more bread.
I don't deal in trauma porn, so I won't share the details of everything we talked about. It's not my place. But I can say that we shared our highest highs and lowest lows of the conference. We shared our dreams and we encouraged each other.
The NETFLIX party may have been a highlight of my early career. But this dinner right here? With my new friends? Was a highlight of my life.
Peace.
---
p.s.
Oh yeah! I almost forgot.
Anji and I shared a Lyft to the airport. The lady driving was intense!!
She immediately exclaimed to Anji
OMG I LOVE YOUR HAIR
Here we go again…
The driver didn't care much for our conversation in the first 10 minutes. She was blasting Lizzo at 5 am in the morning and singing along. Presumably because Anji is a black woman.
Then the driver started to notice we were talking about the conferences, tech, Netflix, networking, etc. dropping gems. She would turn down the volume when we talked and turned it up when we stopped talking! Then we noticed she was swerving around curves! What the heck!!!
Lady was probably on something because she was driving aggressively and was slurring her words and not making sense. Either way, we were both happy to get out of the car. What a wild end.